The DMA Awards 2019: Wanted - a Talent 12 to build the campaign
04 Mar 2019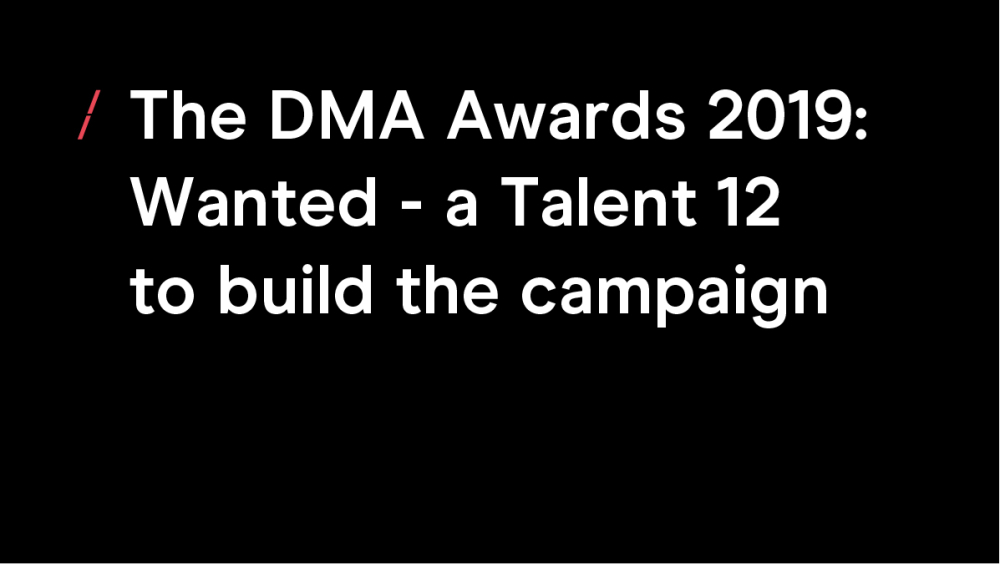 The DMA Awards 2019 – and you?
We seek you and 11 other bright things to hook-up with our panel of award-winning creatives and strategists and power this year's DMA Awards campaign.
The DMAs are the UK's leading awards for the data and marketing industry, tested on a rigorous approach that values creativity, strategy and results – and we only reward the work that works.
Each year we attract over 500 entries from storied agencies, boutique studios, innovative start-ups, and the bravest clients from around the country.
A hand-picked panel of judges then tackles the work over a week in October as we mould a shortlist of the strongest campaigns from around the industry.
In early December, we gather a nearly 1,000-strong audience under the stars at Old Billingsgate for DMA Awards night to unveil our winners, and the overall Grand Prix champion.
And this year – for the very first time – we will build the campaign on your idea.
We want you to dream, deliberate and deliver a campaign to inspire the UK's data and marketing industry to enter the DMA Awards with their finest work.
Who are the Talent 12?
You will be one of 12 of the brightest brains in the business.
You should be talented, collaborative, a hard worker interested in advertising and in the world at large: ready to put your best to the test, and craft a great campaign.
Don't box yourself in (or out) – we're looking for a range of skillsets, from creatives to data specialists.
You could be a student; an intern; someone in their first year of a job; someone looking for a career change; or someone looking to return to the industry after a break.
You could be grey haired, or utterly green: we embrace a diversity in all its forms.
It's our goal to create a group that's representative of modern Britain.
How does this work?
You apply, and our panel will carefully dissect your application before choosing who joins the Talent 12 team.
We then have a half-day co-creation workshop where you'll meet your fellow Talent 12 team members, and our panel.
The panel consists of established, senior agency creatives and strategists – potential future bosses for any successful applicants.Think of this as a great way to build contacts amongst your peers, and amongst the leading creators, thinkers and doers in the industry.
Once an overarching campaign idea is decided on, our panel will work with you and your Talent 12 team members to guide and shape your work as we collaborate on the craft behind the DMA Awards campaign for 2019.
Post-workshop participation is totally up to you.
But the individual who brings most to the campaign will be honoured in front of 1,000 senior people from the industry at DMA Awards night in December.
The deadline?
We need applications by Friday 8 March.
Successful candidates will be contacted by Tuesday 12 March.
The workshop will take place the following Thursday 21 March.
DMA Awards night l is on Tuesday 3 December in London.
Why apply?
As a member of the Talent 12 you will have a unique opportunity to drive a DMA Awards campaign the whole of the UK's data and marketing industry will see.
You'll meet and work with senior creatives and strategists; learn from them; and take what you learn and mesh it to your skills to become even better equipped at what you do now and better prepared for what you want to do in the future.
Talent 12 winners will also mingle and meet senior leaders at our key events including the DMA Awards shortlist party in October, and DMA Awards night itself in December.
So, ready to apply?
Fantastic. We can't wait to hear from you.
To apply, please:
Tell us, in 500 words, who you are, what you would bring to the Talent 12, and why you want to be part of it?
Please include your age, home address, work/education location, and/or your current job role
Once you have your application together, package it all up into an email to our Head of DMA Awards, Ellie Hibberd, here.
Please note:
We will pay travel costs for people based outside of London – so don't let that stop you from applying.