DMA Awards: Webinar Library
27 May 2020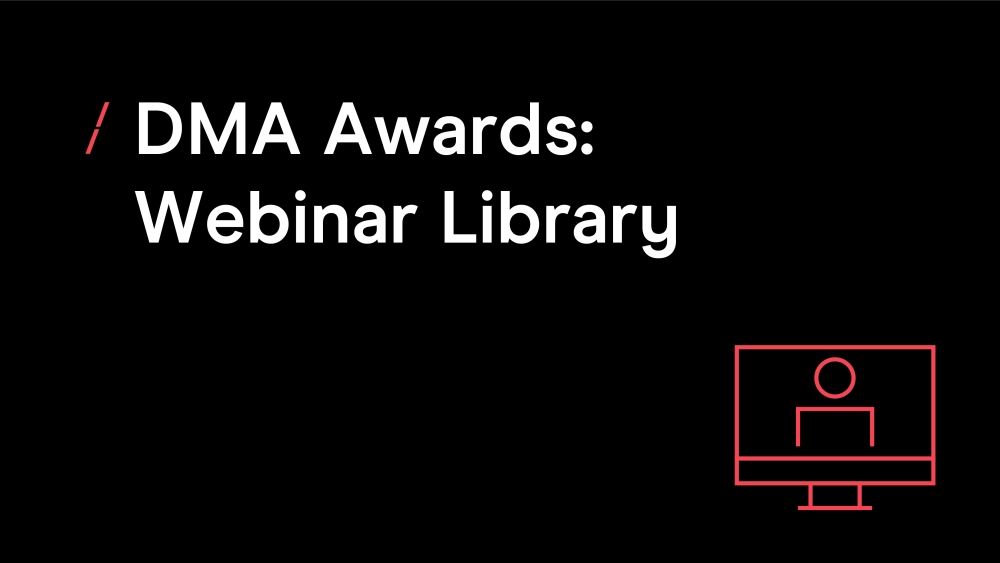 Take a deep dive into DMA Award winners with our latest webinars.
---
Hear from a selection of DMA Awards experts who will take you through the three key criteria – strategy, creativity, and results – on which all Awards entries are judged.
Enjoy an overview of the categories and a step-by-step run-through of how to complete your entry form with Charlotte Gough, Awards Manager, DMA.
You will:
Hear Ben Rachel, Founder and Planning Director, Soul discuss strategy
Listen to Jason Andrews, Creative Partner, IRIS discuss creativity
Learn from Dhiren Patel, Senior Marketing Manager, The Economist who will be discussing all things results
This session will give you a leg-up and head start – so listen now.
---
The Class of 2019 - Award-Winners Showcase III
Offering invaluable insight into the various challenges, strategy, and results from the DMA Award winners. This online session examines what goes into making a DMA Gold award-winning campaign.
Chaired by Matt Conner, Chair of the DMA Awards Committee you will:
Explore a practical case study from Open Creates and Mind on their 2019 multiple DMA Award Gold winning campaign: Pause for Mind
Learn what goes into a Gold wining campaign from Anything is Possible's Strategy & Planning Partner, Natalie Peckham and CEO, Sam Fenton-Elstone who will be discussing their Gold win in our Best Use of Search category for Royal Botanic Gardens, Kew: Smart Advertising Delivers Record Visitor Numbers
Enjoy insights from Sarah Tille, Account Director and Johnny Kirkham, Copywriter from MRM//McCann London on their Gold DMA award-winning campaign for Miscarriage Association: Cards of Acknowledgement
Hear a panel discussion on the rewards of the DMA Awards
Watch it, here.
---
The Class of 2019 - Award-Winners Showcase II
Hear from those who came home with Gold at the DMA Awards 2019 as we delve deep into the brains behind the operation - looking at strategy, creativity and results with a fine-tooth comb.
Chaired by Jonathan Beeston, Product Marketing Director, Datorama you will:
Watch it, here.
---
The Class of 2019 - Award-Winners Showcase I
Uncover the secrets behind the brilliant creative ideas, strategy, and final output that fuelled the best work in the industry.
Chaired by Gabrielle Ludzker, CEO, Proximity London, you will:
Watch it, here.
---
Using JICMAIL on Your Journey to the DMA Awards
This webinar is packed with use cases and examples, you'll see how to use JICMAIL to support success across each area of award criteria including strategy, creativity and results.
During the webinar you will:
Learn how JICMAIL will amplify your strategic approach, sharpen your creative and deliver big results
Discover how to use JICMAIL in how you pitch for new business
See the inside track on the work behind award-winning mail campaigns, with exclusive case study insight from Whistl, Specsavers, Edit and Jaguar Land Rover to illustrate how the work that wins comes together
Watch it, here.
---
Hear more from the DMA