DMA Awards Shortlist 2023
12 Oct 2023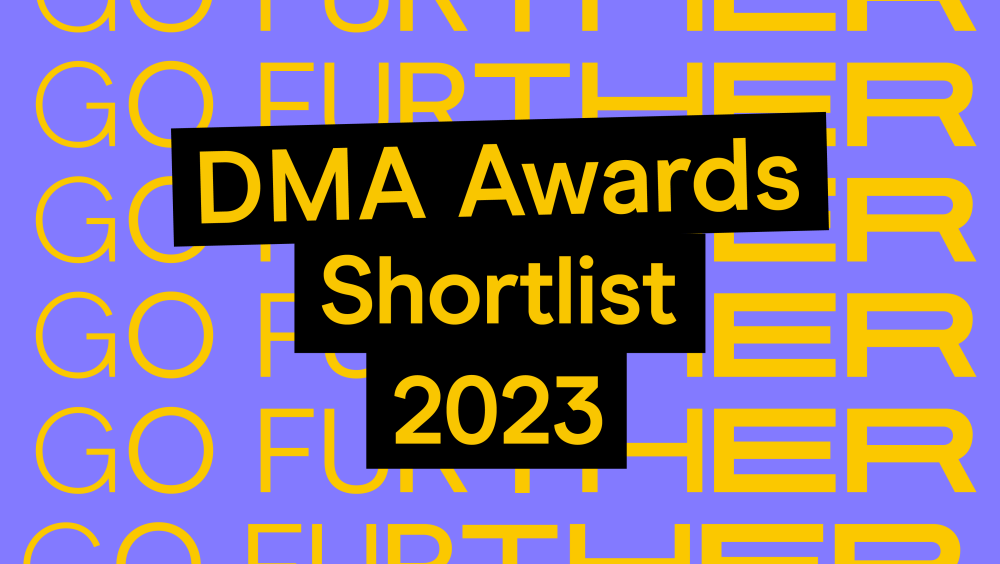 See what campaigns have a chance to #GoFurther this year.
The coolest ideas, a brilliant plan, and perfect execution will get your far – a DMA Award will get you further.
Uncover the campaigns you need to know about: work that moved people, made a difference, and defied expectations.
Our experts Judges have peeled the layers underneath captivating creativity, sizzling strategy, and remarkable results, with only the strongest left still standing.
The result is the DMA Awards 2023 Shortlist.
Click on the categories below to reveal the shortlisted work.
Industry Sectors
Electric Sunshine on Blue Monday

Agency: BBH London
Client: Volkswagen Commercial Vehicles



Launching Suzuki. Good Different.

Agency: Iris London
Client: Suzuki Cars UK



Fleet Dreams Are Made Of...

Agency: TMW Unlimited
Client: Alphabet



Changing Tyres on ATS's Marketing

Agency: TwentyCi
Client: ATS Euromaster
Xero: Healthy Brand, Healthy Business

Agency: december19
Client: Xero



Fish & Chipmunks

Agency: Gasp!
Client: Addleshaw Goddard



B2B - TradePro

Agency: Teamitg
Client: Wickes



Lighter Deliveries

Agency: The Creative Consultancy
Client: Royal Mail



When You Don't Use ABAX

Agency: The Croc
Client: ABAX
Matching People and Property

Agency: addmustard
Client: Marsh and Parsons



The Welcome Journey That Listens

Agency: Armadillo
Client: P&O cruises



Make Yourself, at Home

Agency: Ogilvy UK
Client: Argos



Toxic Influence

Agency: Ogilvy UK
Client: DOVE



Smarter money helps. Next-gen lifecycle

Entrant: CustomerKIND
Client: Tesco Bank
Shining a Light on Employees

Agency: Indicia Worldwide
Client: Konica Minolta



EY's NextWave Elevator Challenge

Agency: Ogilvy UK
Client: EY



Colleagues to Competitors: Scoring Loyalty

Agency: RAPP
Client: IKEA
He'Coming Home

Agency: House 337
Client: Women's Aid



The Ultimate Vow

Agency: Medialab Group and New Commercial
Client: Alzheimer's Society



Don't Google It, Fumble It

Agency: RAPP
Client: Fumble



The Don't Buy It Stall

Agency: RAPP
Client: mothers2mothers



Flip the Script

Agency: TMW Unlimited
Client: The Prince's Trust
Bringing Disney Magic to Email

Agency: Armadillo
Client: Disney



Avoid Sky-high bills with Freesat

Agency: TMW Unlimited
Client: Freesat



The Algorithms of Control

Agency: Wavemaker UK
Client: Paramount+



Only Legends Get Murals

Agency: Wavemaker UK and Kinetic
Client: Audible



Smart paywall project

Entrant: The Telegraph
Client: The Telegraph
Stop! Scammertime!

Agency: House 337
Client: Santander



I*mmigrant

Agency: OLIVER
Client: WorldRemit



Faces Of Fraud

Agency: Wunderman Thompson
Client: HSBC



Smarter money helps. Next-gen lifecycle

Entrant: CustomerKIND
Client: Tesco Bank

Data-Driven Strategy for Financial Acquisition

Entrant: DBS Datamarketing
Client: Tide
Fox of The World

Agency: House 337
Client: Old Speckled Hen (Greene King)



Toxic Influence

Agency: Ogilvy UK
Client: DOVE



Simply Better With Philadelphia

Agency: Ogilvy UK
Client: Philadelphia UK & ireland



#TurnYourBack

Agency: Ogilvy UK & DAVID
Client: DOVE



Hacking growth for Rock Face

Agency: Red Brick Road and BBJ&K
Client: Rock Face
Contract-winning NHS sexual health marketing

Agency: Full Mix Marketing
Client: Essex Sexual Health Services (Provide CIC)



The Ultimate Vow

Agency: Medialab Group and New Commercial Arts
Client: Alzheimer's Society



Toxic Influence

Agency: Ogilvy UK
Client: DOVE



Remove Fear From the Smear

Agency: RAPP
Client: Ann Summers



The Don't Buy It Stall

Agency: RAPP
Client: mothers2mothers
We Are Life-Changing Careers

Agency: MullenLowe UK
Client: NHS England

Donor Acquisition Campaign - Student Assistance

Agency: psLondon
Client: Imperial College London



No feeling like live TV

Agency: RAPP and BBC Creative
Client: BBC/TV Licensing



Getting the nation into donation

Agency: Union Direct
Client: Scottish National Blood Transfusion Service



Making Media the Medicine

Agency: Wavemaker UK, M&C Saatchi and OmniGov
Client: Office for Health Improvement & Disparities (OHID)
#VoiceOfTheCheckout | Co-creating With Customers

Agency: BBH and Essence Mediacom
Client: Tesco




Smashing Targets for Abbott Lyon

Agency: Craft Media London
Client: Abbott Lyon



Winning Hearts & Minds of Gen-Z

Agency: Havas Media Network
Client: Starbucks



Love Your Boobs

Agency: House337
Client: Marks and Spencer



Make Yourself, at Home

Agency: Ogilvy UK
Client: Argos
Protecting a national treasure

Agency: House 337
Client: The England and Wales Cricket Board



F1 Unlocked: Bringing fans inside

Agency: Ogilvy UK
Client: Formula 1



Always be there: Vodafone-Wimbledon Sponsorship

Agency: Ogilvy UK
Client: Vodafone



Beyond The 80

Agency: Sport Unlimited and TMW Unlimited
Client: RFU



Tennis Opened Up

Entrant: LTA
Client: LTA (formally Lawn Tennis Association)
The Welcome Journey That Listens

Agency: Armadillo
Client: P&O Cruises



Affordable ways to travel

Agency: Havas CX Helia Cirencester
Client: Great Western Railway



National Trust: Everyone Needs Nature

Agency: Medialab Group
Client: National Trust



Every stop is a story

Agency: TMW Unlimited
Client: Govia Thameslink Railway



I Came By Train

Agency: Wavemaker UK and Mother
Client: Trainline
Making mobile more supermarket

Agency: BBH and Essence Mediacom
Client: Tesco Mobile



Life Interrupted: Challenging Broadband Apathy

Agency: Ogilvy UK
Client: Vodafone



Always be there: Vodafone-Wimbledon Sponsorship

Agency: Ogilvy UK
Client: Vodafone



Avoid Sky-high bills with Freesat

Agency: TMW Unlimited
Client: Freesat



Powering up the passion. PPX

Agency: Wunderman Thompson
Client: Samsung Europe
Channels
Bringing Disney Magic to Email

Agency: Armadillo
Client: Disney



McNuggets® - Heroes of Shared Occasions

Agency: Armadillo
Client: McDonald's



The Welcome Journey That Listens

Agency: Armadillo
Client: P&O Cruises



Powering up passion with email

Agency: Wunderman Thompson
Client: Samsung Europe



Maximising Value Through Integrated Upsells

Entrant: Braze
Client: The Guardian
The Impact of Thanks

Agency: Join the Dots and Paper + Pixels
Client: RSPCA



Homemover data rockets HelloFresh acquisition

Agency: PSE
Client: HelloFresh



A Smith Award Entry?

Agency: PSE
Client: Mr & Mrs Smith



Sky Winback DM King's Coronation

Agency: Sky Creative
Client: Sky



Sky Winback DM Formula 1

Agency: Sky Creative
Client: Sky
Winning Hearts & Minds of Gen-Z

Agency: Havas Media Network
Client: Starbucks



Half Price Donations

Agency: mud orange
Client: Givematch



Never March Alone

Agency: TMW Unlimited
Client: Pride in London



Put It On Your List

Agency: TMW Unlimited
Client: The Trussell Trust
How #TescoVoiceOfTheCheckout Gripped the Nation

Agency: BBH and Essence Mediacom
Client: Tesco



OREO Twists

Agency: Digitas
Client: Mondelez International



Make Yourself, at Home

Agency: Ogilvy UK
Client: Argos



#TurnYourBack

Agency: Ogilvy UK & DAVID
Client: DOVE



Sprite Limelight

Agency: WPP Open X and Universal Music Group
Client: Sprite
RSPCA's show-stopping door-dropping

Agency: Join the Dots - part of Edit Agency
Client: RSPCA



Pringles - Targeted Door Drop Campaign

Agency: ZEAL Creative
Client: Pringles UK



Shave The Date - Mo Grow

Entrant: Whistl (Doordrop Media)
Client: Movember



Achieving Outstanding Return On Investment

Entrant: Whistl (Doordrop Media)
Client: Princess Cruises



Harnessing communities for doordrop success

Agency: Whistl (Doordrop Media) and Herdify
Client: Abel & Cole
Campaigns
Making mobile more supermarket

Agency: BBH and Essence Mediacom
Client: Tesco Mobile



The Ultimate Vow

Agency: Medialab Group and New Commercial Arts
Client: Alzheimer's Society



Toxic Influence

Agency: Ogilvy UK
Client: DOVE



No feeling like live TV

Agency: RAPP and BBC Creative
Client: BBC/TV Licensing



Sprite Limelight

Agency: WPP Open X and Universal Music Group
Client: Sprite
Electric Sunshine on Blue Monday

Agency: BBH London
Client: Volkswagen Commercial Vehicles



Superdrug Presents

Agency: N2O
Client: Superdrug



Colleagues to Competitors: Scoring Loyalty

Agency: RAPP
Client: IKEA



The Don't Buy It Stall

Agency: RAPP
Client: mothers2mothers



Sprite Irresistibility Index

Agency: WPP Open X and VMLY&R
Client: Sprite
Refer a Charles

Agency: M&C Saatchi
Client: Costa Coffee



Life Interrupted: Challenging Broadband Apathy

Agency: Ogilvy UK
Client: Vodafone



Avoid Sky-high bills with Freesat

Agency: TMW Unlimited
Client: Freesat



Remove the holiday blinkers

Agency: Wavemaker UK
Client: P&O Cruises



Data-Driven Strategy for Financial Acquisition

Entrant: DBS Datamarketing
Client: Tide
Monopoly: Play and Stay

Agency: Armadillo
Client: McDonald's



SmartShop

Agency: Ogilvy UK
Client: Sainsbury's



KFC Rewards Arcade


Smarter money helps. Next-gen lifecycle

Entrant: CustomerKIND
Client: Tesco Bank



Supercharging our lapsing journey

Entrant: Specsavers
Client: Specsavers
Affordable ways to travel

Agency: Havas CX Helia Cirencester
Client: Great Western Railway



KFC Rewards Arcade


A membership programme less ordinary

Agency: VCCP Customer Engagement
Client: Fortnum & Mason



Powering up the passion. PPX

Agency: Wunderman Thompson
Client: Samsung Europe



Using predictive-AI to reduce churn

Entrant: British American Tobacco UK
Client: British American Tobacco UK
Fuelling queer resilience through elders

Agency: distillery
Client: distillery



I*mmigrant

Agency: OLIVER
Client:WorldRemit



Ambitious Applications

Agency: RAPP
Client: London Youth



Never March Alone

Agency: TMW Unlimited
Client: Pride in London



Spread the Word

Agency: U-Studio/OLIVER
Client: SheaMoisture, Unilever
OREO Twists

Agency: Digitas
Client: Mondelez International



We Are Life-Changing Careers

Agency: MullenLowe UK
Client: NHS England



Toxic Influence

Agency: Ogilvy UK
Client: DOVE



SmartShop

Agency: Ogilvy UK
Client: Sainsbury's



I*mmigrant

Agency: OLIVER
Client: WorldRemit
Classier Beer? Follow the Bear

Agency: Bartle Bogle Hegarty
Client: Hofmeister



Launching ITVX

Agency: EssenceMediaComX, Uncommon, Dixon Baxi
Client: ITV



Real Treatment for Real Scars

Entrant: Alliance Pharmaceuticals
Agency: HH Global C+D
Client: Kelo-Cote



Rise Fast, Work Young

Agency: Smithfield Agency and IPA
Client: Hospitality Rising



The Algorithms of Control

Agency: Wavemaker UK
Client: Paramount+
The Cirucular Advantage of Mail

Agency: MSQ/Sustain
Client: Marketreach



Lighter Deliveries

Agency: The Creative Consultancy
Client: Royal Mail



Eco-Effectiveness: Breaking the Trade-off

Entrant: Wavemaker UK
Client: Wavemaker UK



I Came By Train

Agency: Wavemaker UK and Mother
Client: Trainline
Violence Against Women and Girls

Agency: MG OMD
Client: Home Office



Toxic Influence

Agency: Ogilvy UK
Client: DOVE



#TurnYourBack

Agency: Ogilvy UK & DAVID
Client: DOVE



Put It On Your List

Agency: TMW Unlimited
Client: The Trussell Trust



Making Media the Medicine

Agency: Wavemaker UK, M&C Saatchi and OmniGov
Client: Office for Health Improvement & Disparities (OHID)
Data and Tech
Toxic Influence

Agency: Ogilvy UK
Client: DOVE



F1 Unlocked: Zandvoort Unlocked

Agency: Ogilvy UK
Client: Formula 1



Homemover data rockets HelloFresh acquisition

Agency: PSE
Client: HelloFresh



KFC Rewards Arcade


Helping Smart Bidding Be Smarter

Entrant: Search Machines
Client: Mr & Mrs Smith
Matching People and Property

Agency: addmustard
Client: Marsh and Parsons



Colleagues to Competitors: Scoring Loyalty

Agency: RAPP
Client: IKEA



Choice paradox to plan perfection

Agency: TMW Unlimited
Client: Vodafone



Boots sensitive consent - Menopause Journey

Entrant: Boots UK
Client: Boots UK



Embedding a Digital First Strategy

Entrant: M&S Bank
Client: M&S Bank

















SpecsTech: Creating Difference That Matters

Agency: MG OMD
Client: Specsavers



KFC Rewards Arcade


ITVX


Are you paid fairly?

Entrant: Pertemps Recruitment Partnership
Client: Pertemps Recruitment Partnership



Zoteria

Entrant: Potato
Client: Vodafone Foundation
The Welcome Journey That Listens

Agency: Armadillo
Client: P&O Cruises



F1 Unlocked: deepening fan experiences

Agency: Ogilvy UK
Client: Formula 1



Abandoned journey with unprecedented personalisation

Agency: RedEye
Client: Travelodge



No7 Retinol - Responsive direct mail

Entrant: Boots UK
Client: Boots UK



Smart paywall project

Entrant: The Telegraph
Client: The Telegraph
Craft
Matching People and Property

Agency: addmustard
Client: Marsh and Parsons

Centrepoint: You Saw Me

Agency: Arthur London and Lyrix Organix
Client: Centrepoint

Spinal Stories

Agency: RAPP
Client: Back Up

Ambitious Applications

Agency: RAPP
Client: London Youth

KitKat Have a...

Agency: Wunderman Thompson
Client: Nestlé
Making mobile more supermarket

Agency: BBH and Essence Mediacom
Client: Tesco Mobile



Toxic Influence

Agency: Ogilvy UK
Client: DOVE



Remove Fear From the Smear

Agency: RAPP
Client: Ann Summers



Ambitious Applications

Agency: RAPP
Client: London Youth



When You Don't Use ABAX

Agency: The Croc
Client: ABAX
Matching People and Property

Agency: addmustard
Client: Marsh and Parsons



Toxic Influence

Agency: Ogilvy UK
Client: DOVE



Remove Fear From the Smear

Agency: RAPP
Client: Ann Summers



Spinal Stories

Agency: RAPP
Client: Back Up



KFC Rewards Arcade
He's Coming Home

Agency: House 337
Client: Women's Aid



The Ultimate Vow

Agency: Medialab Group and New Commercial Arts
Client: Alzheimer's Society



We Are Life-Changing Careers

Agency: MullenLowe UK
Client: NHS England



Toxic Influence

Agency: Ogilvy UK
Client: DOVE



#TurnYourBack

Agency: Ogilvy UK & DAVID
Client: DOVE
Today in Focus

Agency: OLIVER
Client: Guardian News and Media



Sprite Limelight

Agency: WPP Open X and Universal Music Group
Client: Sprite



Safe Spaces

Agency: Wunderman Thompson
Client: HSBC UK