DMA Awards: Changes for 2022
18 Jul 2022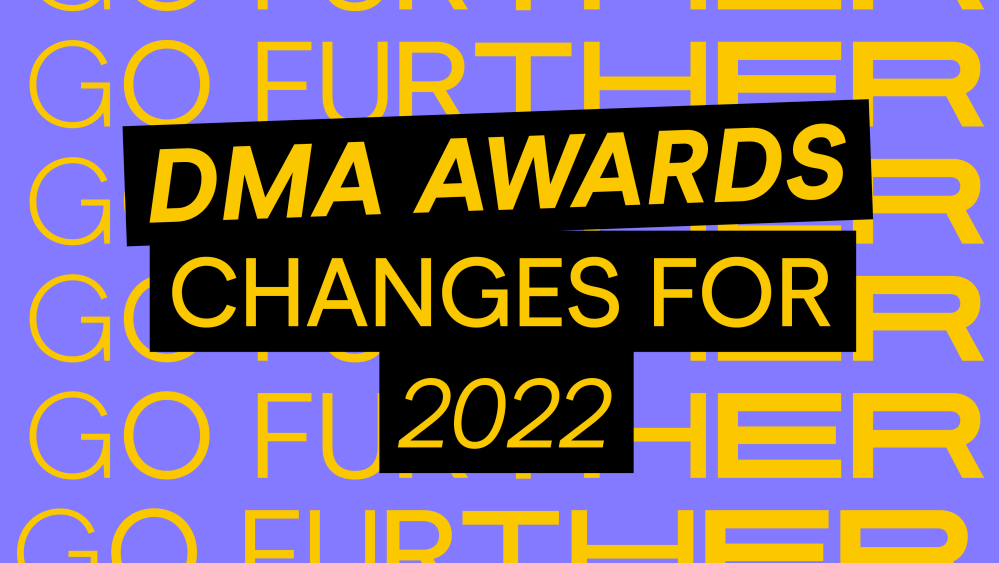 DMA Awards: Changes for 2022
The DMA Awards are now open for entries for 2022.
The team have made some changes to the entry process, categories and Grand Prix announcement.
Read below for full details.
First-time Entrant Discount
For the first time, the DMA is offering a £50 price reduction on the cost of each entry for first-time entrants.
To check if your business has entered the DMA Awards before, please email awardsentries@dma.org.uk to find out.
Categories
Our shiny new category for 2022 is Digital Product. This category is for digital product creation for B2B or B2C brands, either from scratch or as part of a digital transformation journey. You can enter websites, mobile apps, wearables, and software as a service platform.
You may also notice some of our category names have changed. Please be rest assured it is only the name that has changed.
You can read the full 2022 category descriptions here.
Supporting Material
Next up is the supporting material for your entry.
As in previous years, each entry can be supported by one case study video. However, this video will not be viewed by our judges until the second round of judging. This will ensure a more level playing field for those not able to produce case study videos.
In addition, you can upload a maximum of two video or audio files to support your entry. These must be campaign assets that ran as part of the live promotion.
We are also now accepting hardcopy material for the Mail and Unaddressed Print categories. If you would like to send any material to support your entry, please remove all references to the agency and include your URN number.
Please send them to: FAO Charlotte Gough, DMA House, 70 Margaret Street, London, W1W 8SS
Grand Prix Shortlist
The final change for DMA Awards 2022 is the announcement our Grand Prix winner.
Choosing a DMA Grand Prix shortlist takes place on the final day of Awards judging. Our Category Chairs gather together to build a Grand Prix shortlist of three. They'll do this by reviewing all Gold winners and judging them against the Awards pillars: strategy, creativity, and results.
The Grand Prix shortlist will be informed on Thursday 20 October. The shortlisted entrants will then be invited to pitch their entry to the Category Chairs in person (behind closed doors) on Thursday 10 November.
Following the shortlist's pitches and questioning from the Category Chairs, they will debate and vote on a DMA Awards Grand Prix winner. The Category Chairs leave not knowing who won. The DMA Awards Grand Prix winner will then be announced live at the Awards Night 2022 in December.
---
You can find out more information on the DMA Awards entry process with our entry guide here.
If you have any questions for the team, please email awardsentries@dma.org.uk.
Hear more from the DMA