The DMA Awards Committee
25 Jun 2021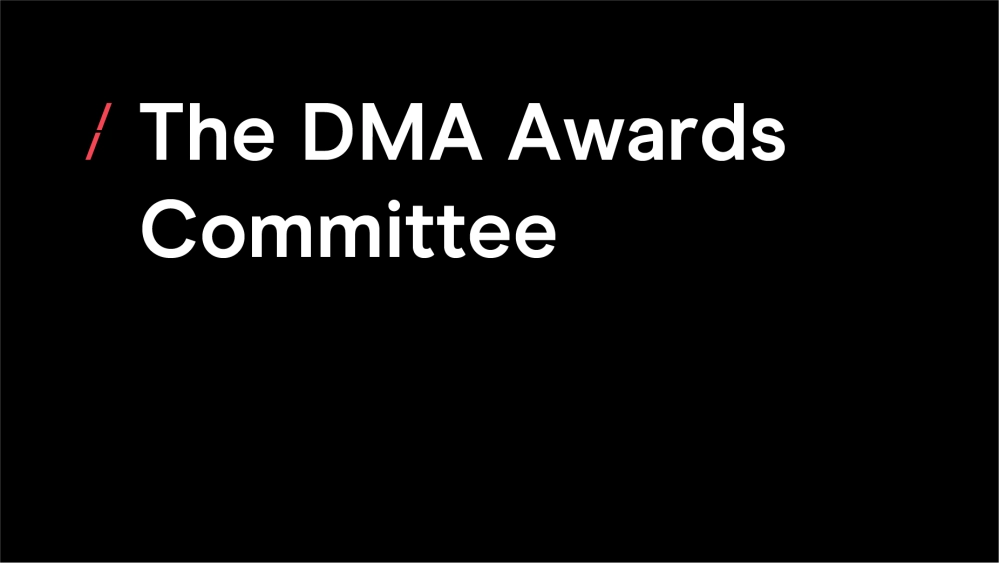 The DMA Awards Committee is made up of the finest minds in creative, data and marketing in the UK. From agencies, brands and innovation worlds, find out what makes them tick, how they see the industry now and in the future, and get their expert insights and perspectives on the DMA Awards. Find a list of who makes up the committee below:
Chair:

Tony

Miller,

VP Growth & Performance Marketing,

WW

Deputy Chair:

Caroline

Parkes,

Chief Experience Officer,

RAPP

Fran

Griffin,

Strategy Director,

BBH
Ed

Cracknell,

Head of Brand, Wiggle
Marius Bartsch,

Head of Customer Engagement,

Digitas
Radhika

Vyas,

Country Marketing Performance Leader,

IKEA
Jason

Andrews,

Creative Partner,

Iris Worldwide
Claire

Billings,

VP, Marketing EMEA,

Merkle
Johnny

Kirkham,

Copywriter,

MRM
Sam

Williams-Thomas,

Head of B2B,

Ogilvy UK
Skip

Fidura,

Board Advisor,

OVERMORE GROUP
Matt

Conner,

Chief Growth Officer,

Paragon DCX
Natasha

Stanton,

Marketing Lead,

Sky
Ben Rachel

,

Founding Partner and Planning Director,

Soul
Dhiren

Patel,

Digital Marketing Specialist,

The Economist
Lorena Teruel

,

Design Director,

TMW Unlimited
Cordell Burke,

Creative Managing Partner UK,

UP THERE, EVERYWHERE
Heather Westgate,

Managing Director,

We Are Marketing UK
Jane

Evans,

Senior Data Strategy Director,

Wunderman Thompson

Congratulations on being appointed as the new DMA Awards Chair. What are you most looking forward to?
Thank you!
What am I most looking forward to? Another year of great entries, because over the last few years the DMA Awards has gone from strength to strength.
In 2020 we had some real standouts and getting that coveted Grand Prix was a knockout fight to the very end.
I hope for more of that this year - and to have an opportunity to celebrate all the hard work in person.

How would you describe your experience of being a DMA Awards Judge in 2020?
It's a highlight of my year.
I love to immerse myself in reviewing excellent work - it's a great honour to be part of the DMA Judging community.
You have an opportunity to lift yourself out of your daily routine and mix it up with marketing leaders from both agency and client side, discuss and debate good work.
It's a fun couple of days out and you come away energised and renewed with inspiration from all the amazing entries you've just seen.

What are your predictions for 2021?
My predictions for 2021 are:
We have a record-breaking year of Award entries
We are able to celebrate the work face-to-face
This year's Grand Prix finalists will come down to two finalists being so close that the winner will have to arm wrestle for it!

What separates a potential DMA Awards Grand Prix from a Gold?
A potential Grand Prix winner will have just the right amount of balance between Creativity, Strategy, and Results.
Gold winners have all three, but sometimes one of the areas outshines another.
A Grand Prix has that delicate balance of having the right mix of all three - a nugget of insight that build just the right strategy and creates stand out creative jolting it's audience into action to such a degree that the results sing for themselves.

When it comes to creating brilliant work, how important is the understanding around diversity and inclusion?
Very important. Diversity and inclusion must to be weaved through everything we do.
It can't be an afterthought or even a side project. As a population we are a melting pot of differences, and we have a duty to represent all people through our work.
Personalisation, emotional connection, and authenticity are key to creating brilliant work.
And you simply can't create brilliant work without understanding your audiences. And you can't understand your audiences without embracing diversity and inclusion.
---
Marketing Specialists


How did it feel to win the 2020 DMA Awards Grand Prix?
It was an incredible feeling – especially with the addition of the virtual Grand Prix Event this year. The DMA Awards is held in such high regard
and I have often looked at envy at the past winners.

The Grand Prix campaign, Unscripted, focused on an idea rather than a media plan. Why do you think this is more powerful?
Focussing on an idea led us to be brutally singled minded about how we wanted our audience to react – positively or negatively.
It took us to a place where we could create an amazing document that would then permeate into other channels.
Unscripted went from campaign thinking to culture thinking. What is the difference between the two? Is one more effective than the other?
Culture thinking allowed us to really go into the minds of football fans and tap into the insight that at the start of the season everyone starts on the same level and anything can happen.
From here we were able to do something no one had done before and look forward – writing off teams before the season had even started.
This was the catalyst that started the debate.
In thinking like this we created something that lived on – in fact quite a few of the nationals and fan sites continued to write about the script week in week out as we approached the Covid break (you really can't script it) they were desperate to prove us wrong which kept the campaign alive.

What makes the DMA Awards different from other awards celebrations?
The DMAs are different to other awards because they clearly want all the award submissions to be embedded in insights, data and ROI over big
creative ideas and shiny awards films.
To me that adds an extra level of credibility and kudos in winning these awards, especially when working client-side.

Budget cuts were a common trend across the winning work in 2020. Does creativity sometimes lie in constraints?
Yes I think it does, it generates some of the most purest creative ideas linked to customer insights and data rather than focusing on delivering
channel executions e.g. TV scripts, OOH executions.

What long-term aims has the pandemic accelerated, and do you think they'll be reflected in the 2021 Awards?
I think you will see an increase in strong eCommerce entries and in particular D2C customer subscription offerings in the 2021 Awards.
These probably didn't exist pre-pandemic and were a reflection of the changes in shopping behaviours during the lockdown periods.

Why do awards matter to the industry?
Why wouldn't they matter?!
Regardless of what industry you look at, awards get you, your brand and company recognised by competitors, peers, admirers, advocates, supporters, etc.
Sports is a great example—there are always award ceremonies taking place to not only recognise and celebrate winners but to inspire everyone else. Whether that's to usurp the current champion or to get the next generation energised, there is an emotional reaction taking place that only comes from trying to win an award.
In our industry that is no different and awards act as a sense of achievement, pride and importantly, a reminder that hard work pays off.
Some of the teams behind the 2020 winning campaigns talked about the importance of sticking to a plan, while others valued shifting direction based on responses. How do you know which one is right for your campaign? Should you balance the two?
Like anything there should be a gut feeling to begin with.
That gut feeling then needs to be either proven or dispelled. Both proving and dispelling the feeling can be achieved by either approach mentioned. Though it is reasonable to say that all approaches would have been based on data.
The patterns, trends and KPI metrics will speak volumes about whether the plan is working or whether a shift is required.
It makes sense to balance the two and that there should always be a plan in place; it's that there should be enough room to be agile within that plan.

A lot of the award-winning campaigns in 2020 used AI effectively. Do you think we'll see different kinds of marketing technology advances in the future?
Definitely. Abilities of what we can do with AI are growing at an exponential rate and all the big tech players are doing all the hard work in testing and producing learnings that everyone else can learn from.
It's only a matter of time until we see brands being really brave with AI.
---
Leaders
The DMA Awards celebrate the bold and the brilliant. How can we push for braver, sharper ideas in our industry?
Stay close to, identify and understand the cultural/societal changes going on around us, especially the nuances of the many individuals that make up society, and dare to put ourselves (through our marketing comms) out there with an opinion or perspective that might connect with the few and not the many.

2020 showed that there's a difference between using data and intelligently using data to find an insight and frame it in a creative way. How can we make that leap?
Embrace and act.
The volume and the variety of data from for example social listening and behavioural website data is calling on marketers to use it and make the conversation more relevant, it's a no brainer and yet some, still too often, latch on to general and broad insights.
Increased frequency and directiveness of communications is also needed and this offers a great creative brief.
Prepare for a series of targeted communications, not only individual campaigns, and creatively plan (somehow!) to leave room for your consumers to shape the narrative.

How have the DMA Awards surprised you?
That I learn something new everytime I'm involved. The debate in the judging process always gives you something new, different and good to think about.

How can leadership set the tone for ongoing award-worthy innovation?
By remembering Issac Newton's comment: "If I have seen further it is by standing on the shoulders of Giants."
Leaders must create environments for others to flourish and they must employ better people than themselves.

Many of the DMA Awards Grand Prix contenders talked about experiencing a true collaboration of forces between agencies and clients. How does a great long-term client-agency relationship affect the creation and execution of award-winning work?
Trust.
Long term relationships build it.
A lot of what clients and agencies do together is akin to a leap into the unknown.
If you trust who you're leaping with, not only is that reassuring, it makes you braver - and you need bravery if you want to do something different, to innovate, to lead, not follow.
What would you like to see from the 2021 DMA Awards?
Over the past three, four years we have seen a surge of Martech acceleration and development.
We've seen how this has improved our 'intelligence', but it hasn't yet been translated en-masse into amazing creative work.
I want to see truly data and tech-driven ideas.

How have the DMAs shaped your perspective on award-winning work?
They have made me realise how insanely hard it is to create justifiably award-winning work that delivers on the holy grail of strategy, creative and results.
And how hard it is to craft the entries for the work.
It's a skill that needs to be baked into how you work on a daily basis or you just don't stand a chance.

When it comes to brilliant campaigns, how can we focus both on thoughtfulness and commercial success?
I think this is an absolute requirement of both today's world but also today's consumers.
A brand without purpose is just not as highly valued and therefore will not enjoy the same commercial success.
They are symbiotic now and so must be in the campaigns we create.

What has been the best thing about being involved in the DMA Awards Committee?
The breadth of talent that is represented from almost every aspect of our industry, to be able to contribute towards the success of the DMA Awards and yet learn at the same time.
I love that we strive every to make this year better than the previous, to be as inclusive of every member of our community and to continue to widen the opportunities for people to enter the Awards.
It's great to be part of an active committee that actually "does" something and is passionate about achieving the highest levels of strategy, creativity and results.
Oh, and I've made some incredible friendships over the years.

Going forward in the DMA Awards, what do you think we'll see less of and more of in terms of marketing approaches?
Going forward I expect to see greater focus on customer lifetime value, considering mutually beneficial value-based exchanges between individuals and the organisations and brands they are engaging with.
Enhanced and better use of complex combinations of data sources will lead to more personalised content relevant to the customer and the measurement of success will be based on broader criteria, reflecting the value exchange.

In 2020, quite a few of the winning campaigns took the step from awareness to empowerment. How can marketers achieve this and why is it important?
Love this!
In order to achieve and increase the value of the relationship with the customer empowerment marketing, will require a paradigm shift in attitudes in many companies.
Traditional marketing approaches will become more redundant if brands and organisations adopt a more mutually beneficial relationship through empowerment marketing.
More timely content through multi-faceted channel distribution should become the norm, but it will require trust and true empowerment to deliver success.

You've just passed the torch as DMA Awards Chair to Tony Miller. How would you describe your experience over the past three years?
It was all going so well, then Covid stole my party.
I've thoroughly enjoyed my time as Chair, it's been fantastic to be leading a group of people who care so much about our industry and the craft within it.
For me the DMA Awards is the platform for recognising, celebrating and sharing the best data-driven work in the business.
Over the past three years we've continued to make the awards programme more relevant to more people, increased the involvement of C-suite marketers, inspired new talent and seen a broader range of work than ever before.
As with many organisations 2020 made us challenge the conventions of how we operate, establish what's important and what might just work in a different way.
The success of the 2020 programme is testament to the strength of the DMA Awards, commitment of the team and the brilliant work that our industry continues to deliver.
I'm proud to have been part of it and whilst I'm sad my term has been served, I'm pleased to be passing over to such capable hands.

During this time, you've seen a lot of brilliant campaigns. What is one piece of work that makes you think, 'I wish I'd done that'?
Only one? – Wow, there have been so many.
Surely work shouldn't be a winner if it doesn't give you that feeling?
I'm a sucker for a really powerful, emotion rousing creative idea though.
So in that respect it's got to be the Westminster Armistice Day Footsteps work, or maybe BT's Unscripted, or perhaps IBM's rAIse their game, although the Army Belonging Campaign was amazing too.
One thing I do know for sure though is that the feeling of 'we did that' is much stronger, it's worth every last bit of effort that went in to it.
Nothing beats it.

What is good failure, and do you think it's beneficial to talk about it in a DMA Awards entry?
Powerful insight can be drawn from many places - knowing what's wrong takes you a lot closer to finding what's right, it's part of the process.
Many award-winning case studies will include a narrative which recognises that convention, or previous experience, was not achieving the desired outcome and was the instigator to try something new.
In that respect 'good failure' which leads to success is both beneficial commercially and a good story to tell.
It goes without saying though, that a great piece of creative work, which didn't deliver its goals is not going to be enough to convince the judges.

What do you think is a common misconception about the DMA Awards?
Not the DMA Awards specifically but I think the misconception of awards in general is that they are a marketing tool for the agencies.
While this is true to a point, this does not mean that they are not beneficial to the rest of the industry.
Yes, every agency has the "I love me" wall as you walk in which is meant to impress future and current clients.
It also helps attract and retain the best staff and do you hire an agency for their tokens and trinkets or for the staff that earned them.
Brands also hugely benefit from this as well.
Agency life is not for everybody and there are a lot more brands trying to attract the best talent and awards help immensely.
Brands specifically benefit from winning a DMA Award.
More than other awards the DMA recognise results along with strategy and creativity which gives an independent verification to the overall quality of the work which helps when going to the big bosses for budget.

What seems like a no-brainer in an award-winning campaign that many brands don't actually often do?
Set specific expectations about the results before the campaign.
Too often I see campaigns that set out to "increase", "improve", "introduce", etc. but nobody is willing to say by how much.
Award-winning campaigns can articulate what they wanted to achieve and what they actually achieved.
Even when they did not achieve what they set out to achieve, by having a specific target they can explain why they did not achieve the original target and then explain why what they did achieve is award winning.

Every campaign that won Gold in 2020 had a real understanding of their audience. Why is this so valuable and how can we follow suit?
Brands that understand their audience get results by design; those that don't, get results by luck. It is as simple as that.
Understanding your audience is no longer a nice to have it is key to success.
You have the data and have access to the tools, you really have no excuse not to understand your audience.
---
Data Specialists

You've recently joined the DMA Awards Committee. What is one thing you hope to learn or experience?
The DMA Awards have for many years recognised and rewarded not only great work across the industry but also sought out and acknowledged rising stars, and on joining the Committee I was delighted to discover their ambition to continue to grow their awareness and authority with those newer to the industry.
I am keen to play a proactive part in helping to achieve that.

Many of the 2020 award-winning campaigns used data to speak to people in a human and meaningful way. How can we accomplish this?
The most effective conversations are those that both listen and respond in a way that is relevant, helpful or inspirational.
Data is the fuel we can use to help drive those conversations beginning by understanding both needs and barriers.
Successful data driven campaigns are not necessarily complex but focus on core needs which drive an action.
To speak to people in a human and meaningful way data should be used which is targeted: identifies key decision makers so that conversations are directed at the right people at the right time, relevance: provides information and insights which are tailored by sector or specific award category, simplicity: use data to simplify the application process to prevent time from being a barrier, inspiration: link use cases of past winner case studies to encourage new entrants to enter, or use to remind past entrants of the strengths of their previous entries

In 2020, DMA Awards Judges talked about the importance of building the framework of data not only from a technology point of view, but also from a people and culture point of view. How can we do this?
Technological advancements and business investment in Martech has seen an increased focus on automation, personalisation and content management.
The need for brands to recruit specialists to help manage and deploy their campaign activity to maximise these investments has diverted attention away from a focus on the customer; to understanding and reacting to their behaviours.
Customer journeys are often driven by automated data triggers rather than genuine customer behaviours and to ensure that the DMA Awards continues to focus on people and culture, it is important that they identify and reward brands that use data for good, those that take the time to understand their customers and develop data frameworks around them.
---
Strategy Specialists

How did it feel to make it to the Grand Prix shortlist?
Brilliant, of course! When you enter work into awards you obviously hope that it will be recognised in some way, but to win Golds and be shortlisted for the GP was really special.
The We Are Nurses campaign was described as a fully integrated creative campaign. What advice do you have for other marketers looking to do this?
You can only be a fully integrated team and produce integrated work if everyone on that team is invested in the same goal and collaborative way of working.
Our team take every brief from a strategy-first, completely channel-neutral perspective, meaning that the output genuinely meets consumer needs and works through the entire journey.
That is only achievable if every discipline - brand, media, web, whatever else - works together.

Strategy, creativity, and results are the three pillars of the DMA Awards. How can you make sure there is a thread between all three?
You shouldn't need to invent a red thread; start with your full narrative, then work out what goes where. I always start by writing a short, informal campaign narrative on a blank piece of paper.
Why did we do what we did, and who was it for?
What did we do, and how?
What impact did we have?
Writing into specific sections before you've formed your story can be a real blocker to the flow of what you're trying to say.
---
Creatives

Do you agree with the statement 'to win a DMA Award, winning an award shouldn't be your goal'?
Of course, no one should ever create something purely for the sake of winning an award (although there are award shows dedicated to rewarding precisely that).
But, when you've come up with something that you know is special, you do start to become aware of its awards potential.
That really helps drive determination not to compromise on any aspect of the work.
The standards set by the winners are a really tough bar to measure your own efforts by and an incentive to keep on pushing.

Is risk a fundamental part of developing powerful creative work?
You can't be original without breaking out of your comfort zone.
Creativity in all fields means taking established and accepted thinking and squeezing it into unfamiliar and unexpected shapes.
The biggest ideas only thrive by taking risks, whether that's in strategic insight, conceptual leaps, or indeed - zeitgeist moment - vaccine development.

What is one piece of creative work from the 2020 DMA Awards that you admire and why?
Klarna's 'Heartbeats for Sneakers'.
I love the way that it turns tech on itself.
It's next-level marketing automation, beating bots at their own game by making humans an integral part of the solution.

What was your initial impression of the DMA Awards, and how has it changed over the years?
I first heard about the DMA Awards back in the late '80s.
In those early years, the winning work was almost exclusively about results, truly uncreative and mainly focused on direct mail packs.
So, the DMAs were not top of mind or respected by a majority of the creative community.
Fast forward to the 21st Century and the quality of the creative work is way better and well represented in most forms of media, on and offline.
Also, whilst the award winners have to shine in three main areas (Strategy, Creative, Results), the awards aim to reflect continuing shifts in the marketing industry.
As a result, they've remained firmly established and respected while many other awards shows have fallen by the wayside over the same period.

What does creativity mean within the context of the DMA Awards?
Creativity is a hugely important part of the DMA Awards.
And unsurprisingly, the quality and execution of the ideas must be of the highest standards to 'win a DMA'.
However, these awards also reward the use of creativity in all its different forms.
Whether that's an inspiring data insight, extraordinary use of media or deploying the latest technology, the categories recognise the different types of creative input at every stage that are needed to produce the finest creative solutions.

Creative work in 2020 highlighted the importance of balancing an emotional message with something that makes audiences feel engaged from a commercial point of view. What advice do you have on balancing this?
The days of just constantly ramming messages down customers throats are hopefully over.
It's now more important that the customer knows what a brand stands for.
Where possible, a brand's message should make people feel something then, more importantly, do something as a result.
I'd ask clients to be patient and build their brands with their best and most relevant messages over time rather than rely on too many quick win tactics.
Constantly listen to your audience, learn from them and act on what you're hearing because it's as much about what brands do as well as what they say.
That way, you'll have a much better chance of engaging with existing and potential customers.
Nowadays, 'actions speaks louder than words' has never been more important.
Using only five words, and not using the words bold or brilliant, how would you describe the DMA Awards?
The celebration of excellent work.

What is the difference between good copywriting and award-worthy copywriting?
Copywriting is just one part of the story.
Telling your brand's truth with a big idea, flawless execution and perfect targeting is what drives excellence.
Great writing will always find a way to weave everything together.

What copy approaches do you hope to see more of in 2021?
Compassionate (non-cheesy) campaigns that capture the mood of the last couple of years and give us a sense that the brands we love are genuine, self-aware, and on our team.
The Lennon-McCartney partnership said it best, 'all you need is love'.
Truer now than ever.
---
Customer Experience

When it comes to marketing and/or data, is there anything the DMA Awards have changed your mind about?
The DMA Awards run through my career for longer than I care to admit (let's just say I celebrated a milestone birthday recently) so it's hard to extract how I feel about our industry, and the impact the DMA Awards have on that.
Each year when I'm lucky enough to judge, I get the chance to look at different categories, and there's always something new that challenges me to be more inventive.
Whether it's thinking about how to use Spotify data to reach customers in new ways, or the role that something as simple as a letter has the power to change culture (BT Sport), the DMA Awards always makes me ever more imaginative.
It opens my mind, rather than changes my mind.

The drive for brand purpose and authenticity was an underlying factor in 2020. Do you think we'll see more of this in 2021?
I have no doubt that we will see more brand purpose driven work as we move forwards.
2020 will be seen by history as one of the most important pivots in society - we have seen huge shifts in how we behave as individuals, and as communities, that we will only move forwards from.
In the work I am doing across all of my clients, community is really driving thinking forwards.
This could be around the role that brands' own people are treated and consulted as we now know that how brands treat their staff impact on customer choice.
This could be about how the brand plays a role in society at large, for example my client Virgin Media have just announced a long-term strategic partnership with Carers UK, an unsung army of people who are pivotal to our society and yet are not recognised.
This could be round diversity strategy, and forensically focusing on how we engage every single one of our customers, which is why I now have a Diversity Strategist in my team.
I look forward to seeing more work that proves the impact of purpose driven work.
Proving that it's not just good to be good, but commercially vital to do so.

A few of the 2020 campaigns were described as 'brilliantly modern.' In your opinion, what does this mean? Is it important?
We've had numerous debates in the Grand Prix Jury around the role for data.
Is it enough for a winning entry to have data led insight or must a DMA Award use data to target individuals, for example.
For me, there's not such thing as data led marketing, all marketing should be data led, as transformative insight is powered by data.
For me, the BT Sport Unscripted work was brilliantly modern because it fuses science (AI) with culture, and that's a powerful combination.
Other work, such as the Klarna work, took what's essentially an well-worn (excuse the pun for a trainers campaign) mechanic i.e a prize draw, but used innovative technology (detecting a human heart beat) to create a really engaging experience.
Brilliantly modern doesn't necessarily mean something that has never been done before, a total first, but fusing things together in an unexpected way.
That's the alchemy of what we do, and it's what fuels me to do better everyday.
The DMA Awards are fuel for my imagination, essentially!

What is one thing you have learned from being on the DMA Awards Committee?
I've learned that our industry is full of amazing people doing amazing work that is having great impact…but it isn't being seen by a wider audience or celebrated.
Being on the DMA Awards Committee affords me the opportunity to encourage those who are hiding their light under a bushel to come forward and gain the recognition they so richly deserve.

Hyper-personalisation was a popular trend in 2020. But personalisation isn't just about more data. What does it really mean?
There is a difference between hyper-personalisation and being truly personal and I think that point is sometimes lost.
AI, data, tech and an explosion of new channels presents us with the opportunity to target an individual with the right offer, at the right time and in the right place.
However, as algorithms take control I often see the humanity lost.
As we wait for the latest lockdown to end the need for the human touch has never been so important.
According to Harvard Business Review an emotionally engaged customer is worth twice as much as a highly satisfied customer and that emotional connection should be the thing we strive for above all else.

2020 also showed how much customer engagement has changed. Do you think we'll see more shifts in 2021? What kind of transformations would you like to see?
Life changed for all of us.
A new set of needs and behaviours suddenly emerged and continue to evolve.
Brands accelerated their own transformation journeys and recognised the need to remain reactive.
The events of the last year demonstrated the importance of staying close to customers, so I'd like to see genuine customer insight move to the fore, informing not just marketing but also wider business strategy.
I'm anticipating an explosion in new channel usage, especially those offering a chance for human or physical interaction in a contactless world: live chat, video-based services, voice and the resurgence of direct mail.
Brands will need to innovate, experiment and take risks with new technology.
The ones who succeed will enjoy competitive advantage.
I'd also like to see much greater connection; the breaking down of internal silos to better service customer needs, connected customer experiences that deliver on the brand promise and obvious connection between the work we do and the impact it has.
---
To enter the DMA Awards 2021, head here.
To learn about the key dates for the DMA Awards 2021, head here.
To learn about the 35 categories up for grabs in the DMA Awards 2021, head here.
To learn about our entry prices, head here.
For all enquiries related to entering, sponsoring or partnering with the DMA Awards, drop our Awards team a line here.
Hear more from the DMA