Copywriting Masterclass: 12 Dec 2023
01 Nov 2023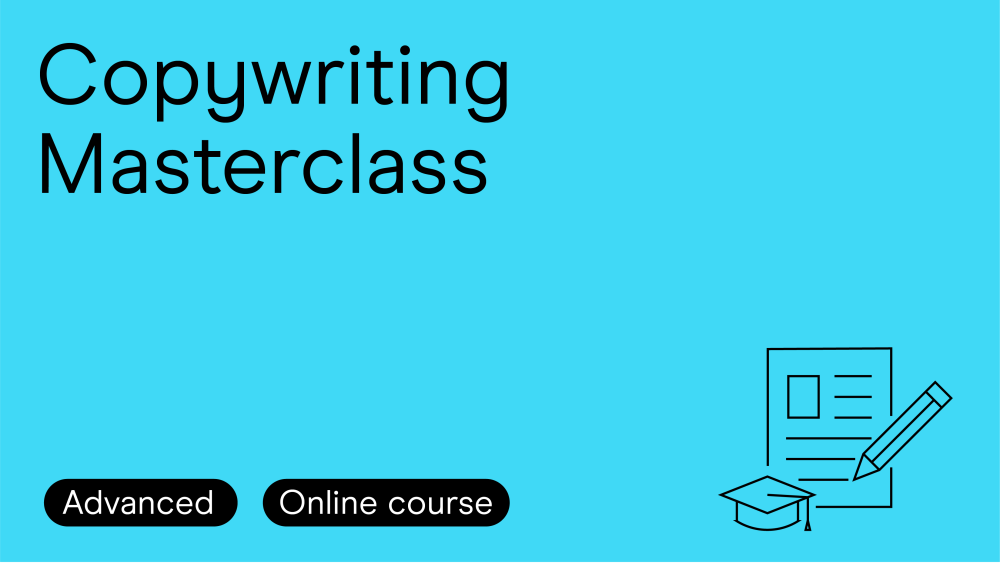 Hone your copywriting skills with copywriting techniques that captivate and persuade your audience. Develop skills that help you connect with readers and inspire them to act. Through this course, you'll acquire practical tips and knowledge to boost the effectiveness of your writing in all contexts.
You will learn to:
Streamline your process for planning, assessing and enhancing the impact of your copy
Get insights into the latest trends and best practices in copywriting
Develop ways to overcome writer's block and enhance your creativity in copywriting projects
Get hands-on experience with copywriting exercises and feedback from an industry expert
Course Information:
Planning and briefing your copywriting
Setting clear objectives for your copy
Identifying your target audience and their needs
Aligning your copy with brand voice and messaging
Clarifying the goals for your copy
Understanding reader behaviour and its implications
Insights from usability testing for content optimisation
Reading patterns and their influence on copy structure
The role of visual hierarchy in guiding readers
Using audience insights and personas to improve your copy
Creating persuasive copy with strong value propositions
Defining and articulating the unique selling proposition
Structuring copy to emphasize key benefits
Using persuasive language that appeals to logic, emotions and values
Crafting compelling calls to action
Adopting best practices and techniques across channels
Writing for digital media: websites, emails, advertising, blogs and social media
Adapting copy for offline channels: print, brochures and direct mail
Techniques for building trust and credibility
Measuring and optimizing copy effectiveness
Who should attend?
If copywriting is part of your work, this course is for you. You'll learn how to plan and execute copy that hooks your audience, develops engagement and encourages action.
Tutor:
Tim Tucker F IDM, 23 Digital
Tim Tucker is an independent digital content marketing strategist and copywriting specialist. He is a digital consultant for the Content Marketing Association, for which he plans and hosts regular monthly digital breakfast events in London.
Tim has worked across a diverse range of digital environments, from B2C and B2B companies, to charities and government organisations, including the the National Trust, Nationwide Building Society, Nokia and the UK Government's Cabinet Office. Prior to going independent Tim worked for 17 years in magazine publishing, at Future Publishing and Immediate Media. He now provides training and consultancy to some of the UK's leading publishing and media organisations, including Time Inc, Harper Collins, Hachette UK, The Telegraph Media Group, News International, Reed Business Information, Egmont UK and BBC Magazines.
Testimonials:
I arrived knowing very little, if anything about copywriting. I can now leave with a much clearer understanding of copywriting thanks to Paul
Rachel Allen
Marketing Assistant, International Craft and Hobby Fair Ltd
This is a very useful course for any marketer. I am leaving feeling more confident and knowledgeable with lots of practical tips I can apply to my work
Claire Sankey
Marketing Executive, Unite Students
Paul was a fantastic teacher. I have learnt so much today I'm thrilled with the new knowledge I am leaving with. Thank you IDM! I would highly recommend this course
Danielle Matty
Retail Marketing Executive, HTC
The range of tips and techniques you learn about in the space of one day is impressive and I've been able to apply them immediately. The facilitation of the course flowed really well and was very engaging, even in a virtual environment.
David Lever
RSA Insurance Group plc
Hear more from the DMA